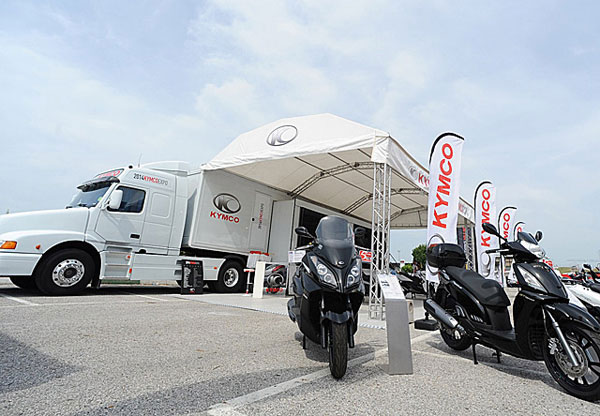 KYMCO, one of the leading motorcycle companies worldwide has entered a partnership with Dorna for the WSBK staff scooter fleet supply in 2014. As a new Technical Supplier of the eni FIM Superbike World Championship, KYMCO will make available to the Dorna staff a stock of Agility 60 R6 4T scooters, the ideal motorcycle for the crowded WSBK paddock.
KYMCO (Kwang Yang Motor Company) is one of the top scooter manufacturers in the world, with high quality machinery present worldwide, and now also in the Superbike World Championship. Since its foundation in 1963, KYMCO has been constantly growing and increasing its market share. The company now has eight plants in South East Asia, ensuring a production of over one million units per year.
Marc Saurina, WSBK Marketing and Commercial Director: "We give our welcome to KYMCO, a new international partner that will be now travelling with the World Superbike Championship at every round giving us valuable new help in our duties. We are glad to be hosting within the WSBK paddock such an increasingly growing global brand."
Luca Paletti, Responsabile stampa Padana Ricambi SpA: "We are really pleased to become part of the World Superbike family and offer our machinery within a series that can give us great visibility worldwide. The presence of the KYMCO truck inside the SBK Village at Misano (picture) has been a great opportunity for us to interact with the crowd - which is in the DNA of World Superbike - and we look forward to repeating the same experience at future events.