The leaders and guests present in the opening ceremony include: leadersfromDepartment of Mechanic, Electronic and High-Tech Industryof the Ministry of Commerceof China, leaders from Department of Foreign Trade and Economic Cooperation of Guangdong Province, Wang Min, Secretary General of China Chamber of Commerce for Motorcycle, Liu Xin, Director of ChinaNational Motorcycle Quality Supervisory & Testing Center (Tianjin),Luo Xing'an, Secretary General of Guangdong Automobile Industry Association, Feng Yu, President of Guangdong Automobile After-Market Dealers Alliance, Ma Zhusen, Secretary General ofGuandong Bike and E-bike Industry Association, Chen Qiang, President of Shanxi Automobile Dealers Association, Mr. NAIZ, President of Pakistan Motorcycle importers Association, leaders of Indonesian Purchasers Delegation, and leaders of Taibei Purchasers Delegation.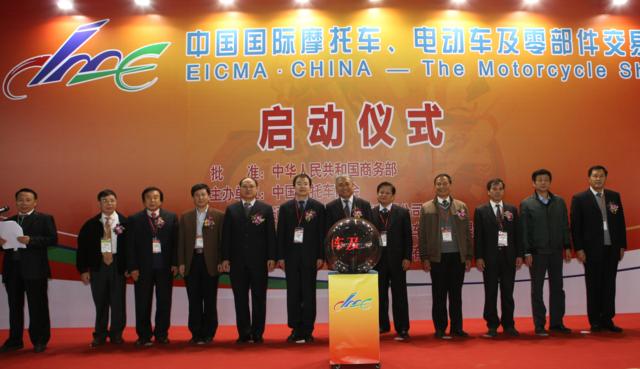 EICMA·CHINAis an exhibition approved by the Ministry of Commerce of China and operated by the principle of "to be market-oriented, international and professional". After four years' development, EICMA·CHINA, which puts up a bridge to promote the exchange and cooperation between Chinese and foreign motorcycle enterprises, has developed into a major showcase to demonstrate the overall strength of China's motorcycle industry and an important medium to promote trade. In 2013,EICMA·CHINAis one of the 115 exhibition projects listed by the Ministry of Commerce of China to give particular guidance and support.
This show covers an indoor exhibition area of 10,400 square meters and an outdoor area of 5,000 square meters as well as embraces over 150 famous exhibitors, up 10% over the same period of last year. It can be said that the presence of the "National Delegations of different countries" is what's most attracting.
After 30 years' rapid growth, the Chinese motorcycle industry is experiencing a test, and as with other industries, it faces restructuring. China has seen the most sales of motorcycles in the world in a row of years, but with low economic benefits. Now, because of the product structure, China's motorcycle manufacturers have to compete with overseas manufacturers in the same category, especially from India, in the overseas market. Being aggressive, the Indian manufacturers have taken over the markets of Chinese manufacturers in most parts of world, which results in low growth of sales of Chinese motorcycles and successive low profits of Chinese motorcycle manufacturers.

To transform the whole industry, we must develop enterprises with strong strength. In 2012, the Chinese government sorted out 8 prefecture-level cities including Chongqing, Jinhua and Taizhou etc. as the national-level bases to transform and upgrade the foreign trade of motorcycles. Upon the launch of this show, all the foreign economic and trade commissions of these bases, without exception, organized the participation of the local enterprises as a team in the show, presenting the innovation and excellence of the motorcycle industry bases and the enterprises in the bases.
During the Show, another highlight should be: the products exhibited are typical of leisure and sports motorcycles of large displacement as well as new energy motorcycles driven by solar power, which leads the future direction for restructuring motorcycle products.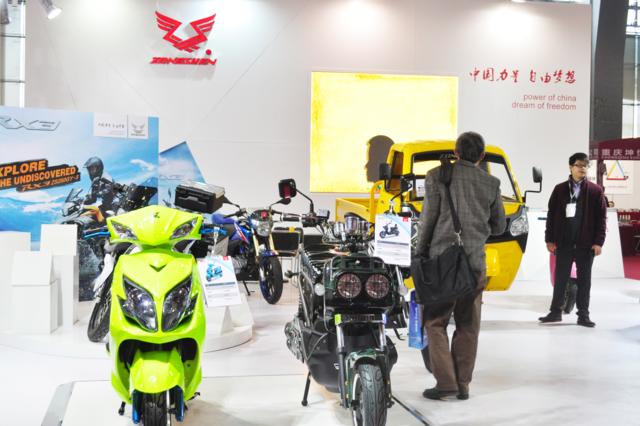 This show gathers the world-famous brands including Lifan, Zongshen, Jincheng, Wuyang-Honda, Qingqi, Dayun, and Dayang etc. Over 30 complete motorcycle factories with brand strength in China including TAYO, Senke and Zhufeng etc. exhibit products in this Show. Enterprises including SEMC (Anhui Guangdong New Energy Co., Ltd.), Shanxi Sailing Electric Vehicle Co. Ltd, Guangzhou Quanqiufeng and Zhejiang TOPSO etc. also exhibit their new energy and new technology products cored upon solar energy in this show. Among them, Guangzhou Quanqiufeng is the first time to participate in such a national-level platform. Famous electric motorcycles of China includingYadea, Sunra and EVERMASTER are also seen in this show. Even a lot of famous parts manufacturers in China demonstrate their new products.
In the modified motorcycle area, many world-known brands adopt the form of static display which involves such brands as Yamaha, Harley-Davidson, Ducati, BRP, BMW, Kawasaki, Honda, and Suzuki etc., offering an extraordinary visual banquet for many high-end motorcycle fans.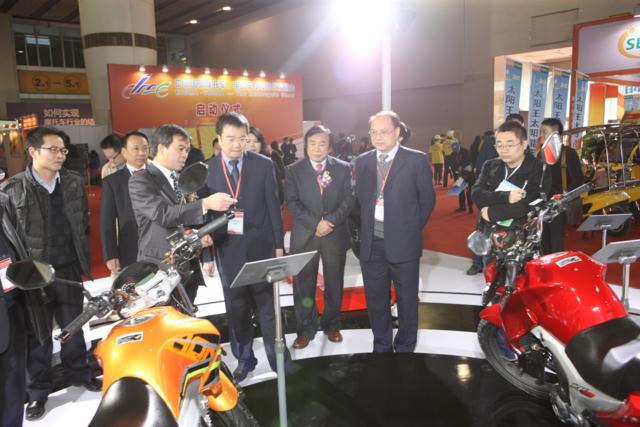 InEICMA·CHINA 2013, we have seen enhanced contact and communication with professional purchasers both home and abroad. The purchasers from Pakistan, Turkey, US, Columbia, Indonesia, Vietnam, Nigeria, India and Taibei have visited the Show in groups, which brings more opportunities for cooperation between exhibitors and visitors.
The summit forum "How to Achieve 'Restructuring' of the Motorcycle Industry" held in the same period spurs the presence of a majority of experts, and motorcycle and parts entrepreneurs. They express their opinions in a free manner, and actively discuss the necessity and feasibility for restructuring of the motorcycle industry, thus clarifying the future development of this industry.
Liu Xin, Director of China National Motorcycle Quality Supervisory & Testing Center (Tianjin), holds that product integration is an important part of "restructuring" as well as a propeller to boost the booming of the industry.
"After China becomes the country boasting most motorcycle output and sales, realizing breakthroughs in quantity, another problem comes into our mind that how should we realize breakthrough in quality so as to further adjust and upgrade the motorcycle industry." Says Hong Geng, President and Party Chief of Jialing Group.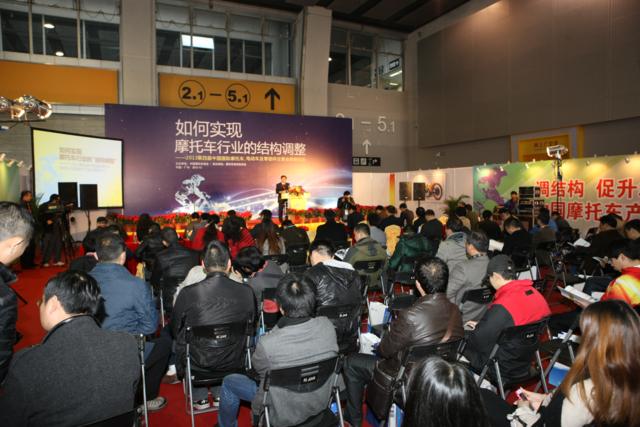 We are convicted that this show will play a role in enhancing international exchange and cooperation of the motorcycle industry, promoting restructuring and industry upgrading, expanding the domestic and international markets, and strengthen the development of the motorcycle industry of China.